Kids Ministries at the ARK
Upcoming Events and Services for Children!
Vacation Bible School
VBS is coming to FBC June 26-29!
Registration will open online Sunday, June 4.
If you desire to make donations for snacks or crafts, we will have a table set up in the Kids Lobby on 6/4. Stop by and sign up for an item(s). We appreciate your support!
We are still welcoming volunteers for the VBS week. If you are intersted, please email Corrie Messner,  corrie@familybible.church
*All volunteers must be or become policy approved.
In-Person Policy Class – May 28 at 8:30 AM, Room 101. New volunteers, or those looking to renew their policy status, are invited to this in-person offering.
Summer Schedule for Kids Church (K-5th) – Beginning June 11th, children will join adults in the sanctuary for family worship! After, kids will be dismissed to the Youth Room for a Bible lesson and fun activities. *Nurseries and preschool classes will be offered as normal, although we invite even the youngest kids to worship with their families if they choose.
Ongoing Volunteer Needs
Toddler & Infant Nursery: Volunteers are scheduled on a monthly rotation. Please email Carla Edgell or Rebecca Houk to sign up (c.edgell73@gmail.com OR rhouk919@gmail.com)
Middle & High Schoolers: Students 6th-12th grade are invited to serve on a monthly rotation on Sundays, lending a hand in our nurseries, preschool and elementary classes. Those 12 and older will complete the policy class before serving. Please sign up with Bethany Perry (beth.perry412@gmail.com)
Join the VBS volunteer team! Sign up in the Kids Wing Lobby. There is a place for everyone wishing to help! June 26-29, 9-11:45AM.
Students and Young Adults
This Week at FBC
Current Series: ACTS-To The Ends of the Earth
Jesus resurrected and the church asked who do we become and what do we do now? Explore what it means to live in light of the resurrected Jesus. 8:30 & 10:30AM. Join us in person or online.
April 16

A People of Presence, Acts 1-2

April 23

A People of Generosity, Acts 4

April 30

A Conversation with Uncle Mike


May 7 A People of Suffering, Acts 6&7

May 14 A People of Change, Acts 9 (Mother's Day)


May 21

A People of the Spirit, Acts 13

May 28

A People of Reconciliation & Resurrection, Acts 15 & 17
Deeper Dive (Daily Scripture Reading and Discussion Questions)
We know life happens beyond the walls of the church. We desire for each person to be in a group where they are known and they know others. We provide daily readings and weekly questions to encourage discussion and connection with God and others. These may be used in groups or in your home with your spouse, family, or friends. Blessings.
ONE DAILY DECISION READING PLAN
Wednesday 24 Acts 25:13-26:11
Thursday 25 Acts 26:12-32
Friday 26 Acts 27:1-26
Saturday 27 Acts 27:27-28:10
Sunday 28 Acts 28:11-31
Monday 29 Proverbs 29
Tuesday 30 Proverbs 30
Wednesday 31 Proverbs 31
Thursday 1 Proverbs 1
Friday 2 Proverbs 2
Saturday 3 Proverbs 3
Sunday 4 Proverbs 4
DISCUSSION QUESTIONS (following 5/21 sermon)
DISCUSSION QUESTIONS
Pray together. Invite the Spirit of God to move in you and in your group. Pray that God would be glorified and you would continue to grow in Christ-likeness.
 High, low (and if you are fun) a "buffalo" (something random from your week). Have each person share a "high" and "low" moment from the previous week. Take time to listen to one another.
So far in this series we have been encouraged to be A People of Presence to God and each other, A People of Generosity, A People of Suffering, A People of Change and People of the Spirit. Evaluate and share about how you've shifted the last weeks.
Resonate and resist. If you listened to the sermon this week, what is something you resonated with and what is something you resisted? Discuss why.
Genesis 22 when Abraham offers his son Isaac can be a disturbing story. Read verses 10-12 again and discuss how Abraham and Isaac might have been like after this event. What does it mean that God provided in this passage?
Worshipping gods (idols, images, statues) seems archaic and maybe even silly. However, we are still have idolatrous tendencies. Did what "gods" you are tempted to worship each week and how you respond to them.
Read Romans 12:1-1. Discuss what it means to offer your body as a living sacrifice. What does this look like in very practical manners today and this week to come?
Now what? What difference has our time together as a group and in the Word made? How will I go from this time differently? Share with one another.
Pray together and for one another.
Attendance (5.21.23)
8:30 Traditional
Sanctuary – 98
Online Ave. – 17 households
10:30 Modern
Sanctuary – 175
Online Ave. – 11 households
Children – 55
Nursery – 12
Finances (5.21.23)
General
$12,223.90
Weekly Budgeted Need
$11,826.92
Current Fiscal Year Weekly Ave. (Jul. '22-Apr. '23):
$

11,334.00

2021-2022 Ave. Weekly Giving

$12,314.35
Building
$3,144.05
Ave. Jul. '22-Apr. '23:
$

5,054.34

Mission
$205.94
Opportunities To Be Generous
Updates from FBC
Worship Pastor/Designer Position (updated 5/24/23)
Children & Family Ministry Team (updated 5/17/23)
Our Children & Family Ministry Team is here for you! We are thrilled to have Emily and Corrie serve here at FBC. They are a great team and have some exciting plans this summer and fall. We'd love to have your child nursery through 5th grade join us at 10:30AM Sundays and for VBS this summer June 26-29!
FORWARD Revisited
Be A Part of The Building Project (pledge here)
TO PLEDGE ONLINE, CLICK HERE: www.familybible.church/forward
Thank you for your commitment, giving, and most importantly PRAYER toward this amazing project!
About the FORWARD Campaign
We are excited to revisit our amazing campaign we launched last May! Over $760,000 (over three year campaign) was pledged toward the building and 219 ONE's were named!
Each year we plan to revisit the campaign in order to give the opportunity to:
Increase your pledge amount
Decrease your pledge amount
Invite new pledges
Since the FORWARD campaign began in May of 2022 through January 2023 $326,215 has been given. This is 43% of our three year goal of $750,000!
You can learn more below in the FORWARD campaign link and update. CLICK HERE: www.familybible.church/forward
You may have received a letter in the mail with an updated pledge card to pray over. You can see an image of it below.
Thank you for your commitment, giving, and most importantly PRAYER toward this amazing project!
SERVE-Volunteer Opportunities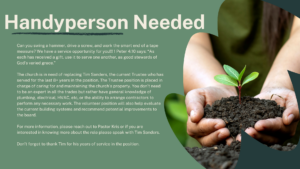 Great Getaway Mission Opportunity
Local Mission Opportunity! Great Getaway Missionaries are seeking volunteers to serve at a Christian camp for disabled children and youthful adults and their families. This is the group that the FBC High School Mission Trip served with last year, and is now at an even closer location.
WHO: Adults 18 and up can be a one-on-one buddy to a disabled camper; ages 16 and up can be a buddy as well if they are accompanied by an adult. Families may also serve.
WHAT: Each camp attendee with a disability is prayerfully matched with a Great Getaway Missionary for the week. You will help care for your family's unique needs while allowing parents and siblings an opportunity to enjoy activities designed just for them. On-site training will be provided.
WHEN: June 12-17, 2023
WHERE: Faholo Conference Center, Grass Lake, MI
Cost: $425 per adult before May 1, 2023 and $475 per adult after May 1.
Please contact Lori Zettell at (269) 969-1989 or lzettell2@gmail.com if you are interested in serving or would like more information.
Nursery & Kids Help Needed for Sunday Services!
Toddler & Infant Nursery: There is a great need in both the todder and infant nurseries. While long term volunteers are encouraged (scheduled on a monthly rotation), we welcome helpers who can lend a hand to meet the immedate need. If you can serve this Sunday (April 30th) or a Sunday in May, please contact Emily VanDorpe. emily@familybible.church
Middle & High Schoolers: Students 6th-12th grade are invited to serve on a monthly rotation on Sundays, lending a hand in our nurseries, preschool and elementary classes.
Those 12 and older will complete the policy class before serving. Please sign up with Bethany Perry (beth.perry412@gmail.com)
Brew the self serve coffee and have it ready by 8:15AM. Be part of a regular rotation serving 1-2 times per month. If you are interested please contact mary@familybible.church.
Social Media Creator (during the week)
Social Media Creator (during the week)
Responsible for creating and publishing content on social media platforms to grow an audience, build awareness, and ultimately, help people encounter Jesus at and through FBC. Contact kris@familybible.church.
Tech/Worship Teams (8:30 & 10:30AM Services) 
Tech/Worship Teams (8:30 & 10:30AM Services) 
We're looking for more volunteers to serve on our tech and worship teams for Sunday morning services!
Worship roles include
vocals
piano
drums
acoustic
electric
bass and more!
Tech positions include:
running the computer slides
soundboard
cameras for the livestream
broadcast audio for our livestream
You will be trained for whichever position you choose. Please contact Nick Walker at nick@familybible.church if you are interested.
Ushers (8:30 & 10:30AM Services)
Ushers (8:30 & 10:30AM Services)
Be a friendly face as people enter the sanctuary. Assist people in finding a seat or other needs as they arise. Please contact Patti Hudson (patti.hudson@yahoo.com) or Mary Pike (mary@familybible.church) to serve.
Lighthouse (distribution day)
Third Saturday of the month. If you are serving please arrive between 9 and 10AM. Distribution is from 10-noon.
Lori Peck is in need for help on Lighthouse Prep day (the Monday before Lighthouse) to help sort and hang clothes. 10am at the annex.
Next Steps
Welcome to FBC!
We would love to get to know you! Please fill out a communication card by clicking HERE
The Scriptures teach us to proclaim the salvation we have found in Jesus through baptism. There is a short 30 minute class before you are baptized to help understand the meaning and procedures of baptism. If you desire to be baptized please contact:
Desire to know more about the church? Where we have been, what we are about, and where we are going? Come to this hour long class to discover the history of the church, know the by-laws, and statement of faith of FBC. This class is the first of three steps to join the church (second is meet with deacons to share testimony and third is reception into membership before church).
Please contact Mary at mary@familybible.church if you are interested in attending a membership class and learning more about joining FBC.
Giving Beyond (Gifts from Wills & Trusts to FBC)
If you'd like to leave a gift to Family Bible Church in your will or trust a member of FBC will provide this service at no charge through her law office. Diane Peters (905 W Michigan Ave Suite A, Marshall, MI (269) 248-6500) will amend your will or trust at no charge. Thank you to Diane for this service and thank you for considering FBC.
Online Giving
If you have questions about online giving please watch this video. Thank you for your ongoing support!
Horizon-Sponsorship Update
Years ago, we set out to focus ministry in one village in South Africa; Matipane. Just a few years ago, our church sponsored every single child in need from that village. AIDS, COVID, and other factors created a new reality where 46 new boys and girls from Matipane had need for sponsorship. Our church, this one stop on the tour, would be the only place these children from Matipane would be presented at churches (those not sponsored would go online).
Sponsorship is not just about money but rather the relationship formed. Letters, pictures, prayers and many of our FBC family have met their child when on a mission trip to South Africa where time is spent in Matipane. One of Joanna's great joys when she was in South Africa years ago was meeting one of the boys our family sponsored for years.
How amazing would it be if we could once again sponsor an entire village? Well, we are almost there! It gives me great joy to share with you that 44 children were sponsored and only 2 are left! I am confident these four will be sponsored by someone who is reading this or will hear about the need. 
I am happy to introduce you to:
Khutso, a 7 year old boy living with his aunt who loves studying Sepedi, watching cartoons, and playing soccer.
Tiisetso, a 9 year old boy living with his grandmother who plays sports, loves cartoons and studying Sepedi.
If you'd like to sponsor one or more of these boys would you please contact our office at 269-781-8400 or email Mary@familybible.church?
Thank you for being a part of bringing hope, for loving neighbors, and for sharing Jesus.
Blessings,
Kris
All Things Construction
Construction Has Begun and When Will it Be Complete?
Construction began on Monday March 20th.
MANY changes that have already happened including…FED sign and office trailer, survey work on site, tree removal, construction fencing, temporary construction road from F Drive, grading of site, temporary wall in the sanctuary lobby, removal of portico, storm/sanitary work and more!
This will be a key tie in location to the new building. The coffee bar, office hallway, and sanctuary entrances will still be open from the interior.
Work you will notice soon includes…temporary gravel for our parking lot on F Drive, tie-in framing at connection points and continued site work.
The west doors are closed at the overhang and education wing doors.
We hope to be in the building by Christmas this year!
How to Access the Building and Property
The building remains OPEN during construction. ALL MINISTRIES AND GROUPS WILL CONTINUE. Changes will be posted here and at the construction update board in the sanctuary lobby.
To access the building during the week AND on Sundays, please use the OLD 27 driveway and enter the building from the south doors (children's wing). We hope to have a doorbell and buzzer at this door soon. Please call the office 269-781-8400 to enter the building.
The annex will be closed during the week and accessible on most weekends.
Construction fencing will be on the property during construction. Please do not enter past these fences onto the construction site. Thank you!
Where Will I Find the Most Updated Construction Information?
Updated construction information will be posted in TWO locations.
1) The Weekly
2) Construction Board on the temporary construction wall in the Sanctuary Lobby
I Have a Question. Who Should I Contact?
Family Bible Church

Deacon Vice Chairperson-Dennis Craft (Craftphoto@aol.com, 269-209-2252)
Building Committee Chairperson-Doug Kiessling (dkiessling5@gmail.com, 269-579-0960)
Owner Representative-David Mead (meaddavid00@gmail.com, 269-275-5902)

FED Design/Builders

Project Manager-Gary Rea
Project Superintendent-Dan Henry
Why Build? What Are We Building Now and Later?
Why Build?
As we shared when we first launched the FORWARD Campaign in May 2022, together we will continue to be a church who develops followers of Jesus who serve to reach ONE more. We will expand our facility in order for you, your ONE, and many others to encounter Jesus in a loving community.  Our fully built out building will have space in the large hub/gathering lobby where we will see the formation of community and healing conversations before and after services over coffee from the coffee shop. We will build a kitchen where meals will be prepared and fellowship, laughter and stories will be shared. We will build a large indoor playground, open to the community during the week, year-round, where children make new friends and so do mom, dad or grandma and grandpa with others who come together. Where these small conversations lead to big conversations of faith.
We will build a space for our middle and high school students in Marshall and the surrounding communities, who in recent years have met in lobbies, the sanctuary, and various rooms, to have a dedicated place of their own. It will be a building where they can welcome their friends from their neighborhood or school to encounter Jesus for the first time. This building will create a dedicated space where children of all ages have a warm, welcoming, secure, dedicated space to learn about Jesus and develop new friendships on Sunday mornings, at Awana and each summer at VBS.  We envision ministries and groups of all ages from the church and community gathering in this new building during the week in our warm and welcoming spaces where strangers become friends and ultimately family as we follow Jesus together.
What Are We Building Now & Later?
Today as we construct, the vision of this project has not changed, and it is the intention of the leadership to complete the project in its entirety.  
The construction industry, like most industries, has seen increases in both labor and material costs.  In addition, inflation continues to impact prices.  The Building Committee has reviewed the bids based on professional discipline and has reached out to local contractors.  Based on this detailed review, they were confident that the bids are appropriate for the current market.  It is anticipated that a delay in the project would result in higher costs in the future.
When the FORWARD campaign began we described the process that the building committee and Deacon board would follow if the FORWARD commitments fell short of our $750,000 goal.  When the bids were received we went through the same process to "right size" the project to fit the budget.  There are certain building components that cannot be delayed or modified, like the size of the building which is needed to link the children wing to the sanctuary.  
Some items, at this time, will be delayed including the completion of the cafe, kitchen, playground (however the planned electric and plumbing for these items would be stubbed now) and/or lengthening the amount of time the debt is paid. 
The board, building committee and finance committee will continue to review, work and plan toward the completion of this entire project.
You will also be able to be part of the solution by your continued or first time involvement with the FORWARD campaign. We invite you to join us in this step of faith. We are excited for the future, trusting God in each step.  
Discover more about the project and campaign HERE
Be a Part-FORWARD Building Campaign Information
Giving update…building fund is at $1,361,720.30 and growing. Since the FORWARD campaign began in May. May 2022 through January 2023 $326,215 has been given. This is 43% of our three year goal of $750,000!
You can learn more below in the FORWARD campaign link and update. CLICK HERE: www.familybible.church/forward
May marks one year since we began our campaign. We will revisit FORWARD this April and May to give opportunity to you to readjust your pledge (higher or lower) or may a first time pledge.
Thank you for your commitment, giving, and most importantly PRAYER toward this amazing project!
Parents Pager System
All parents… please be aware that we are now paging you via the LED sign above the door on the left side of the stage (with you facing the stage). These numbers will coincide with the number on your tag. Thanks for making sure to pay attention to that throughout service.