Forward Commitment Letter
PLEASE READ THIS UPDATE ABOUT YOUR FORWARD COMMITMENTS
Dear FBC Family, 
God is at work and there is great momentum. So far in 2022, at least 20 people have experienced salvation or rededication and 19 people have been baptized. This past Sunday, we continued our Forward Initiative with Commitment Sunday. What a Sunday! 
It was a beautiful sight to see people move forward to humbly submit their sacrificial relational and financial commitment before the Lord. We are honored and excited to be a part of it together. If you missed this Sunday, I would love for you to catch up here: www.youtube.com/watch?v=vq-Dt7clI0E (begin at 25:15).
I am thrilled to share that already we have received 95 commitments to the campaign and more are being dropped off daily!
More importantly, our congregation has identified an amazing number of ONES! These are people that we have committed to spend time with, pray for, and intentionally invest in to bring them into a closer relationship with Jesus. This is the reason we are undertaking this campaign.
If you have already made your three-year commitment and identified a ONE, thank you! 
If you have not completed your commitment, there is still time to be a part of our celebration. I look forward to you joining our church family in this sacrifice as we move our mission Forward. Our leadership team's goal remains that 100% of our church would join us. Please be prayerful in considering how God is asking you to respond. 
Since we began the Forward initiative, I've had some from our church family describe whether they should give if they are only able to commit a smaller amount. Remember, it's not about the amount we give but the reason why we give. In Mark 12, a widow gave only "two coins" to the church, but Jesus said, "this poor widow put in more than all the other contributors to the treasury." There is no such thing as an insignificant gift when it is given for the right reasons. Regardless of the amount, your commitment matters. More than anything, my prayer is that we move forward as an entire congregation.
Commitments can be submitted by: 
Online (

familybiblechurchmarshall.org/forward

) 

Dropped off at the church office (Monday-Thursday, 8AM-5PM) 

Mail to 725 US HWY 27 N Marshall, MI 49068

Place in basket in the Sanctuary on Sunday
PLEASE submit your commitment in the coming week. We want you to be included in our Celebration on Sunday the 29th. If you misplaced your card, we will have them at the church. You can pick one up, fill it out, and join the rest of your church family that have already been given for this vision to become a reality. 
As mentioned, Sunday the 29th is Celebration Sunday! We will have a time of celebratory worship and we will announce the amount of support we've received and the number of ONES you've identified through the Forward Initiative. Do not miss this!
Please do all you can to join us this Sunday the 22nd as we continue our Forward message series and also Celebration Sunday on the 29th for this momentous Sunday in our church's history. Also, remember our Block Party at FBC on Saturday June 4th from 3-6PM. This will be a great time to celebrate and invite your ONE. Thank you for your commitment and participation!
If you have any questions please contact Campaign Chair Carl Fedders, Deacon Vice Chair Al Byam or Pastor Kris.
In Him,
Pastor Kris Tarkiewicz 
This Week at FBC
One Daily Decision, Weekly Calendar, Weekly Numbers
One Daily Decision
In 2022 at FBC we desire to have the mind of Christ (1 Cor. 2:16 & Philippians 2:5) forming our prayer, thoughts, words, and actions. Make one daily decision to be formed by the Word of God in 2022. This 49-Week Challenge from Life.Church will take us through the entire Bible in one year. It focuses on Jesus and how the entire Scripture points to Him. We hope you join us to read and reflect on the Word daily. You can also follow this plan on the YouVersion
---
Weekly Calendar
Wednesday 25
A Woman's Heart Bible Study, 9AM (Room 102)
Mustard Seed Sewing, 11:00AM (Room 102)
Praise Team Practice, 6PM (Sanctuary)
Prayer Meeting, 6:30PM (Room 102)
Stephen Ministries, 6:30PM (Youth Room)
Young Adults, 7PM (UN10N)
Thursday 26
Ladies Exercise Group, 7PM (Cafe)
Saturday 28
Sunday 29
FORWARD CELEBRATION
Traditional Service, 8:30AM
Dave Mead's Sunday School Class, 9:30AM (Room 102)
Modern Service, 10:00AM
Online Rebroadcast, 5:00PM
Monday 30
MEMORIAL DAY – OFFICES CLOSED
Ladies Exercise Group, 7PM (Youth Room)
Tuesday 31
Iron Man Bible Study, 7AM (Free Range)
Middle School Youth Group, 6PM (Cafe)
Wednesday 1
A Woman's Heart Bible Study, 9AM (Room 102)
Mustard Seed Sewing, 11AM-3PM (Room 102)
Praise Team Practice, 6PM (Sanctuary)
Prayer Meeting, 6:30PM (Room 102)
Stephen Ministries, 6:30PM (Youth Room)
Young Adults, 7PM (UN1ON)
Board Meeting, 7PM (Annex)
---
Weekly Numbers
Next Steps
New to FBC?, Communities, Membership Class
Next Steps
Welcome to FBC!
We would love to get to know you! Please fill out a communication card by clicking HERE
---
Communities
Get involved in an FBC Community. Currently we are offering communities for our series "FORWARD". Check out the Weekend Services section in the weekly for more information.
---
Membership Class
Deacon Mark Pike will be leading a membership class during the 10:00 service at the Annex. Please fill out the form or call the church office to sign up!
Communities Curriculum
Do you have Community (small group) curriculum you are willing to donate to FBC? If so, drop it off in the lobby under the coat rack in the tote provided!
Weekend Services & Upcoming
In 1984, Pastor Richard and Pam Gerten were commissioned to plant a church in Marshall and share the Good News of Jesus Christ with this community. This mission has not changed and even more so it has expanded widely. Family Bible Church ministers to individuals and families beyond Marshall into neighboring communities, across our state, country and to far places globally. The impact of FBC is widespread.
Throughout the years the church has taken steps of faith to reach more people. We started with a dirt parking lot and an old sanctuary we now call the youth room and then added the education wing with classrooms built to encourage Biblical understanding for children, teens, and adults. In the 90's the congregation and leadership saw the need to add a new sanctuary, nurseries, classrooms, and offices to welcome and serve more people. A place was needed for the children and youth to have space of their own. More recently, an investment in the property around the church allowed us new opportunities to create connections through gatherings, athletics, and community use of walking trails and the field. Look around on any given Sunday. We are striving to foster a strong foundation of
faith and community to our young children, teens, adults, every age
group–developing followers of Jesus to serve and reach ONE more.
Ten years ago we began to pray, dream, and discuss how we can carry this
mission forward. To do this, the leadership has prayed and created some
lofty goals for the coming years where we will all sacrifice like those before
us. In this sacrifice, we will see significant life change. We will continue to commit to developing followers of Jesus who serve to reach ONE more. Then, they too, may grow, serve, and share the love of Jesus and the change they have experienced.
Think of your neighbors, friends, co-workers, fellow students, and many others, with whom you cross paths with throughout the week. There are thousands of people near us who are not yet following Jesus. We still believe God placed us in Marshall to continue to engage our communities and the world in fresh ways.
This is a big step for us and together will you pray, specifically, asking God to show us all how. He has given our church the means to accomplish the mission to which He has called. We can do this, but it will require something from each of us.
In order to do this, we are beginning a 3-year journey called, "The FORWARD INITIATIVE." This initiative
involves two specific commitments that we are asking everyone to prayerfully consider and participate in.
With a renewed focus upon those who do not walk with or know Jesus, we desire to minister here locally and globally, believing we will see ongoing life change in many more people because of the sacrifice and work through the Forward Initiative.
Will you help us fulfill Jesus' command to reach our community and world with His love? Will you give of yourself and ask God to lead you to ONE person with whom to share His love? Will you give of the resources the Lord has given you to create spaces in which to invite your ONE?
The Forward Initiative Guidebook
---
Forward Communities
---
Block Party
FBC is having a block party on June 4th at 3pm! This is a great opportunity to invite your "ONE" out for an afternoon of fun, food, fellowship and giveaways.
Ministries
Middle & High School, Kids, A Woman's Heart, Softball
---
Middle & High School Student Ministries
HIGH SCHOOL: High School meets Sunday evenings 6:30-8:30PM in the church sanctuary (come in west overhang entrance). This is an awesome time of games, worship, lesson, small group, and more. NO YOUTH GROUP this Sunday; enjoy the holiday weekend with your family! We will be back together on June 5th for our Señior Fiesta as we celebrate our graduating seniors!
MISSION TRIP FUNDRAISING: LAST CALL! Have a work project around the yard or house that you're looking for someone to help with? We have 28 high school students going on our mission trip this summer and they would love to serve you! If you'd like to hire students for a project, please contact Nick at nick@familybible.church. Include a description of the work you'd like done, how many students you'd like to hire, and your availability. Help support our youth as they prepare to serve this summer!
GRADUATE OPEN HOUSES: These students would like to extend an invitation to their church family to attend their open houses. Please support them as they celebrate their accomplishments! We will be honoring our graduates in the 10:00 service on June 5th.
Arielle Luzadder: May 28th, 11am-3pm, 7124 15 1/2 Mile Rd, Marshall
MIDDLE SCHOOL:
Middle School meets Tuesday evenings 6:00-7:45PM in the sanctuary lobby at the church for a time of games, snacks, questions, lesson, and more. This Tuesday is our 8th Grade Celebration as we celebrate those graduating from middle school into high school! Contact Nick Walker (
nick@familybible.church
) with questions.
---
Kids Sunday Morning Experience
Children's Ministries: At 8:30 & 10AM your children are welcome to join other children pre-kindergarten through 5th grade for the entire service time. Check them in at the children's welcome desk and they will go into the youth room or classroom. Children will be together to hear Bible stories and worship together with Ms. Caye and Ms. Emily and other wonderful leaders.
Quick reminder for parents: Please be sure to keep your parent tag on hand after checking your children into church. This unique code not only assures children are released to the proper adult, but it is also used for calling parents out of service to assist their child, should that need arise. We are also able to message parents via text message during the service, so we ask that you set your phone to receive silent/quiet notifications as well. Thank you for your help in keeping our kids safe!
Summer Changes: Mark your calendars for the Children's Ministry summer changes, which begin SUNDAY, JUNE 12th.
First Service: Children's Church will pause for the summer and resume in the fall.
Second Service: Children will worship together with their families* in the sanctuary and then be dismissed to have a Bible lesson and activity time with their leaders in the Youth Room.
*Nursery and Preschool will continue to be offered for the entire service during the summer.
VBS: Get ready to MAKE WAVES! Vacation Bible School is July 11-14 for children preschool – 5th grade. Registration will open in June, so spread the word to friends and family to save the date!
---
A Woman's Heart Bible Study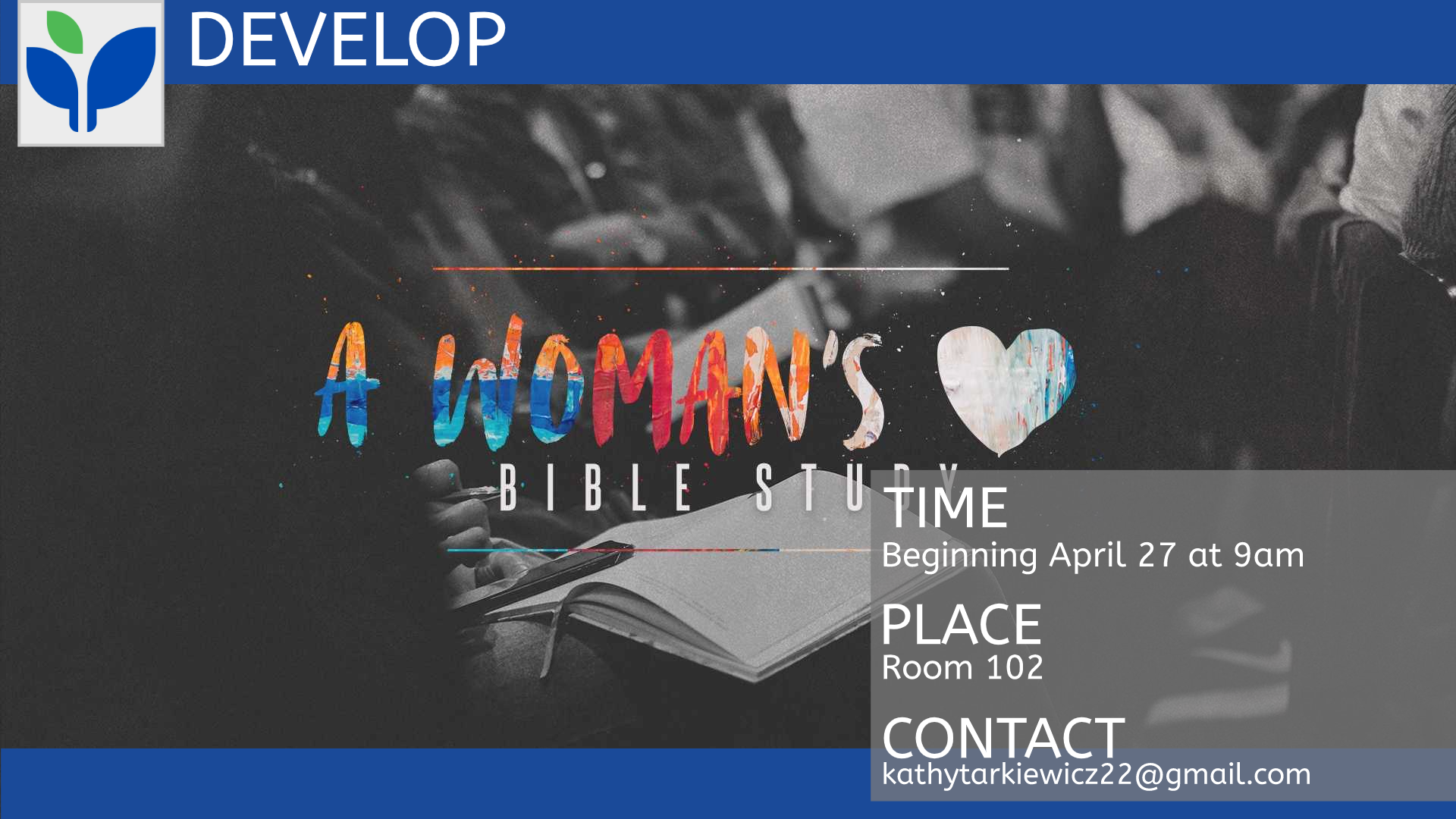 A Woman's Heart Bible study will be using The Chosen video series beginning Wednesday April 27. There is no study guide. Material will be provided each week.
Please let Kathy know by April 15th if you are attending so there will be materials for you.
---
Interested in playing Men's or COED softball? Check out the sign up in the kids lobby or talk with Nick Dysinger, Brad Noel, Josh Nye or Wes Luzadder for more details.
Volunteer & Serve Opportunities
Ushers, Spring Cleanup, Coffee Making
Ushers
Interested in being an usher? Please contact Patti Hudson (patti.hudson@yahoo.com) or Mary Pike (mary@familybible.church) for more information.
---
Spring Outdoor Cleanup
As the weather warms we seek individuals who will clean up the outdoors from the fall and winter. Feel free to clean areas around the church outdoors. If you have questions, contact mary@familybible.church or 269-781-8400.
---
Coffee Making on Sunday Mornings
We are in need of someone who can come in before the 8:30AM service to brew the self serve coffee each week. Currently our staff has been doing this and they are needed elsewhere. If you are interested please contact jon@familybible.church.
---
FBC Worship has a brand new single out! Check out "He Lives (Hallelujah)" available on all digital platforms.